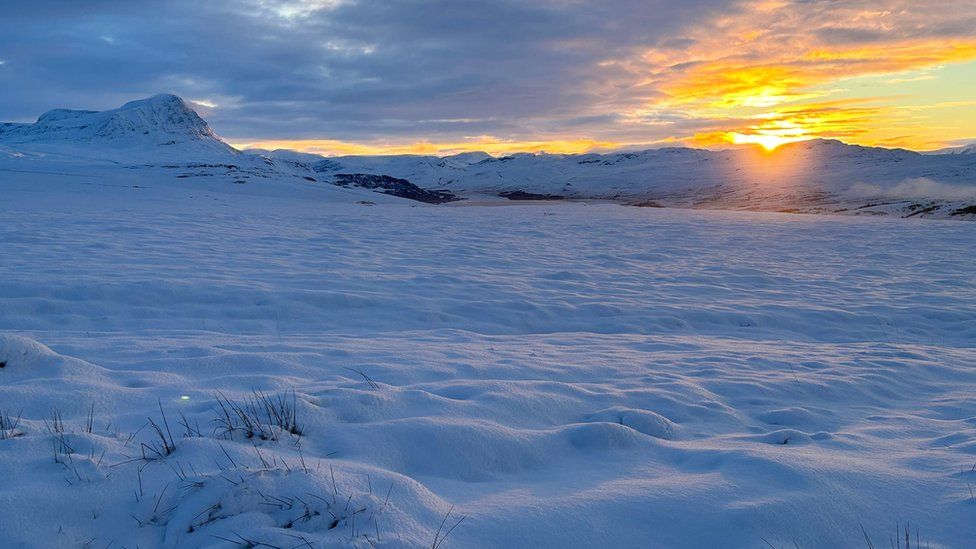 Travel warnings have been issued for icy conditions on roads and pavements – as well as for ongoing disruption on the railways.
Three yellow alerts are in force for all of Scotland, Northern Ireland and northern England until 11:00 on Monday.
The main rail line between Glasgow and north west of England could remain closed for several more days after it was damaged by a landslip on Friday.
Travel will also be affected by a new round of rail strikes from Tuesday.
Forecasters warned that rain, sleet and snow would ease on Sunday evening, leaving surfaces wet as temperatures drop below zero overnight.
Ice is likely to form widely on untreated roads and pavements, and further sleet or snow showers are possible overnight in the west.
The Met Office yellow weather warnings are in place for the whole of Scotland, northern Ireland and much of northern England.
Gritters have been out treating roads around the country, though forecasters have warned that the conditions pose a risk of slips and falls.
Met Office meteorologist Dan Stroud said it will feel colder on Monday – before a lot of wet weather arrives throughout the week.
"The best day of the week is probably going to be Bank Holiday Monday, with a lot of dry and generally fine weather across the country, a bit of a cloud in the mix, with cloud and rain moving in early Tuesday morning," he said.
Flood warnings have now been lifted but the Scottish Environment Protection Agency (Sepa) has advised people to steer clear of receding flood water in southern and central Scotland.
At one point on Friday, Sepa had 10 regional flood alerts in place, along with 29 local flood warnings and a severe flood warning for Dumfries.
The environment watchdog said levels at the River Nith reached the highest ever recorded.
And in England 16 flood warnings were in place – meaning flooding is expected – as of the early hours of Monday morning, including in York, East Sussex, Bournemouth, Bristol and the Lake District.
Following the blockage on the the West Coast Mainline near Carstairs on Friday, Network Rail said engineers were working to reinforce the bank under the track before they can repair the line itself.
There will be no services north of Carlisle and the line is not expected to reopen for passengers and freight services until at least Friday 6 January. Some replacement bus services are being put on.
Meanwhile, further disruption can be expected due to ongoing industrial action, with Network Rail staff set to strike again on Tuesday, Wednesday, Friday and Saturday.
Services will also be severely affected on Thursday due to the challenges of restarting a timetable with just a few hours between strikes.
A spokesperson said there would be only a very limited service across 12 routes in the central belt, Fife and the Borders.
Train drivers in England will also walk out on Thursday, which could affect cross-border services.
Related Topics