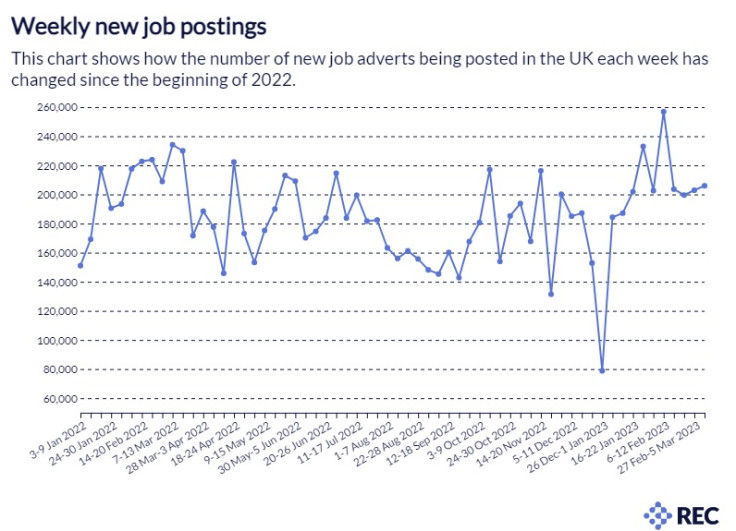 This year is still "a good time to be looking for a job", according to Neil Carberry, Chief Executive of the REC (the Recruitment and Employment Confederation). According to him, data does not suggest that "labour and skills shortages are going away soon". The Labour Market Tracker designed by the REC and Lightcast shows that the number of new job postings from the 6th to the 12th of March was 205,947, 1.5 per cent higher than the previous week.
In the same week, the number of active job adverts was at 1,447,095, a 5 per cent increase from the previous week. According to the REC, "the figure has remained stable around and above 1.4 million since January 2022, reflecting the high demand from employers".
Also in the same week, there were 18,537 active job postings for primary and nursery education teaching professionals, and 19,401 active job postings for secondary education teaching professionals. These figures reflect "the scale of the issues with pay, workload and conditions of service among teachers" according to Carberry.
Elena Magrini, Head of Global Research at Lightcast, explains how "the number of new online postings has stabilised in recent weeks," meaning that the labour market might be "cooling". However, the absence of decline "suggests that the current economic outlook" of "high inflation" and "uncertainty" in markets has not yet impacted negatively recruitment activity"
ONS Data
According to a recent labour market overview by the ONS (the Office for National Statistics), "the UK employment rate was estimated at 75.7 per cent from November 2022 to January 2023". Unemployment from November 2022 to January 2023 was at 3.7 per cent, with the "economic inactivity" rate at 21.3 per cent in the same period. Those who are classed as economically inactive "are not in employment but do not meet the internationally accepted definition of unemployment", either because they are not seeking work or are unable to start work.
However, the ONS also states that businesses "continue to cite economic pressures as a factor in holding back on recruitment". Their figures show that from December 2022 to February 2023, the estimated number of vacancies fell by 51,000 in the quarter to 1,124,000.
Responses by business and government
Whilst there may be many opportunities available for work, the continuing skills shortage presents challenges for businesses and the government in filling vacancies.
To meet these challenges, Carberry explains how "companies need to adapt their hiring plans", with a focus on "reaching into different communities, skill development and staff engagement" likely to produce positive results.
Whilst acknowledging that the recent Spring Budget was right to focus on childcare and support to work, Carberry goes on to criticise the government, stating that "the Budget got an F from businesses on skills" and that "the current system in England actively discourages employer investment and it needs to change".
Announced on the 15th of March, the government claim that its new spring budget "breaks down barriers to work, unshackles business investment and tackles labour shortages head-on". It includes measures intended to "remove barriers to work for nearly half a million parents with a child under 3 in England not working due to caring responsibilities".
Furthermore, the government has also introduced a "returnerships" initiative for those over 50 seeking to return to work or start a new career. The initiative encourages adults over the age of 50 to get back into work and embark on exciting new career ventures, utilising "apprenticeships, Skills Bootcamps and Sector-Based Work Academy Programmes (SWAPs)" to provide new opportunities for older generations.