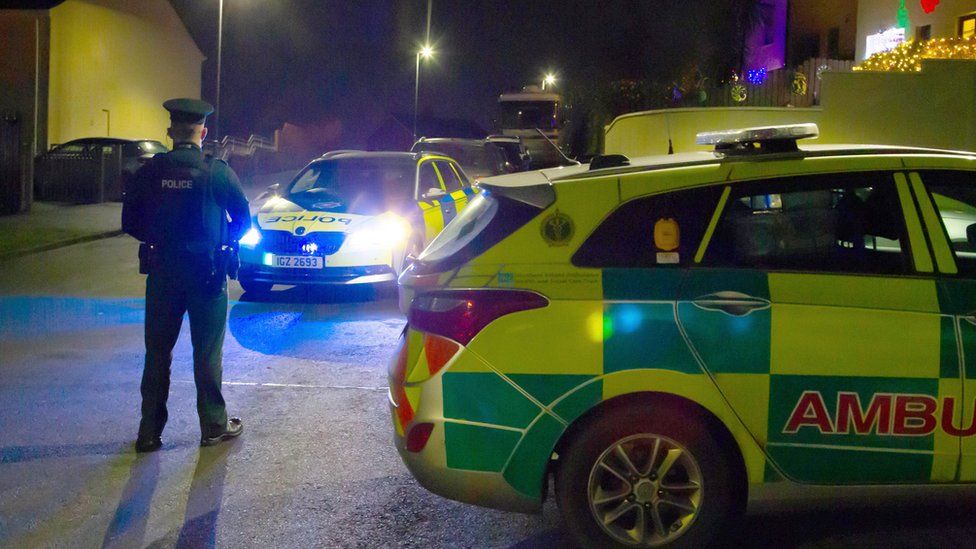 A murder investigation is under way after a man died following a shooting in Newry. It happened at Ardcarn Park on Thursday evening.
The man was pronounced dead at the scene, police have said.
Ardcarn Park is closed to motorists and pedestrians.
SDLP councillor for the area Michael Savage condemned what he called "a reckless act that resulted in the death of a person".
"This was a horrendous act on the streets of our city," Mr Savage, who is chairman of Newry, Mourne and Down District Council, said.
"It happened at around 6 o'clock when people would have been about, families would have been about.
"My thoughts are with the family of the deceased man and I wish to offer them my condolences. My thoughts are also with the people of Ardcarn."
At the scene: Kelly Bonner, BBC News NI
Shocking and brutal – that's how this murder has been described.
It's understood the man was shot a number of times as he stood at the back of his car in the Ardcarn estate in Newry.
Neighbours described hearing what they thought was fireworks going off, only to realise someone had been killed outside their door.
Local politicians have urged anyone with any information to get in contact with the police.
A murder investigation is now under way and police and forensics remain at the scene trying to establish what happened here.
His party colleague, Newry and Armagh assembly member Justin McNulty said: "Nobody wants to see scenes like this in our community, there can be no place for guns on our streets.
"I would encourage anyone with any information to come forward to police as soon as possible so the people behind this disgraceful attack can be apprehended." 
Sinn Féin assembly member Liz Kimmins said: "This was a very brutal killing and a family have now been left grieving and the community left very, very frightened.
"It's just horrendous news. There's just absolutely no room for this type of criminality on our streets and those responsible have nothing to offer."
Ulster Unionist leader Doug Beattie described the murder as terrible.
"More guns on our streets, more victims, more families grieving. Senseless, just senseless," he tweeted.
Alliance Policing Board member Nuala McAllister said: "This is a call back to the dark old days and we cannot allow those who want to drag us back to the past to do so."