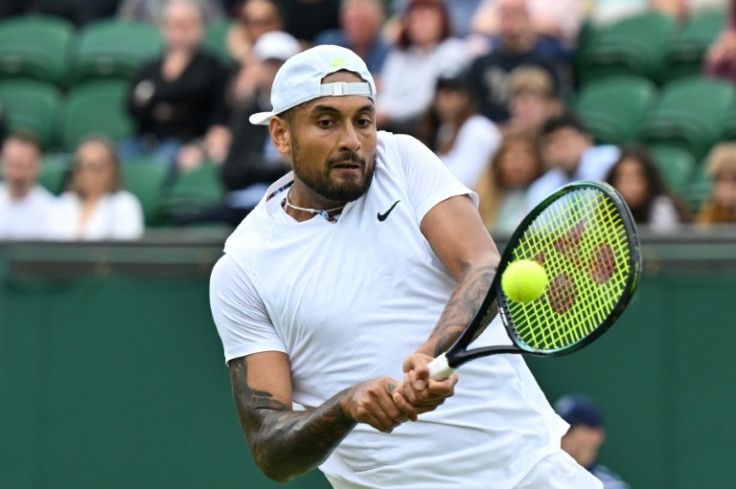 Nick Kyrgios has withdrawn from the 2023 French Open at Roland Garros due to an injury he sustained in a terrifying incident involving his mother.
During the incident, which took place at Kyrgios' family home in Canberra earlier this month, a man stole the tennis star's Tesla car by keeping his mother, Norlaila, at a gunpoint. Amid the chaos, Kyrgios injured his foot, reported Canberra Times.
When the situation calmed down after the incident, Kyrgios revealed that he had cut his foot while helping his family as he was tracking down the alleged thief by using the tesla app. The application allowed Kyrgios to slow down the vehicle and police managed to arrest the accused.
Police eventually seized a shotgun which they believed to have been used in the incident, along with two other firearms. A 32-year-old suspect from Canberra, who appeared in a Magistrates Court and was believed to be facing several charges, including aggravated robbery and driving a stolen motor vehicle, was denied bail.
While the incident left Kyrgios and his family members frightened about their safety, the extent of his foot injury was not known until much later.
Kyrgios' injury not healing correctly
The 28-year-old player's manager, Daniel Horsfall, has revealed that even though Kyrgios had hoped to increase his on-court training work load over the past three weeks, the wound appears to have not healed fully. This left the Australian player with no option but to withdraw from the French Open.
Horsfall further said that the location of the wound has been open for almost a week and a half now. Since it isn't healing the way it should have been, it has kept last year's Wimbledon finalist off court for almost two weeks now.
Kyrgios, who has now been juggling his time between his home in Canberra and Sydney to get himself ready to play again, also pulled out of an exhibition match against Holger Rune in Denmark. The world No. 26 is aiming to recover in time to play at the Stuttgart Open starting on June 12, which would kickstart the grass-court season.
"We see no reason why we can't make it to Stuttgart, that's the goal. The knee surgery went as well as it possibly could and his rehabilitation was fantastic and we were at the point where we were doing on-court loading and management.
"We needed to be at a point where he could comfortably play five sets. Right when we were getting stuck into the loading period, the [alleged] armed robbery happened at his house. During the ordeal, he cut his foot quite badly," Kyrgios' manager Horsfall said.
Kyrgios' year keeps getting worse
The latest foot injury is just another setback for Kyrgios this year, which has already been tough for the Aussie. In January he underwent knee surgery before the morning robbery earlier this month and the passing of his grandmother.
Kyrgios has not played a competitive tournament since October last year after scans showed a cyst growing on his meniscus, forcing him to withdraw from the Australian Open. The only silver lining in all this time off was he could spend enough time with his family when his grandmother passed away this week.
Kyrgios took to social media to pay tribute to his father George's mother, saying: "Seems like I can't catch a break right now. RIP Yiayia, the best we could ask for. Go enjoy your time with Papou now. Thanks for all the love.
He later added, "Not gonna (sic) lie it's pouring hard at the moment. Energy seems everywhere."
The 2022 season was Kyrgios' best campaign to date, winning an Australian Open doubles title alongside Thanasi Kokkinakis and qualifying for the final of Wimbledon. He also ended a three-year singles title drought by triumphing at the Citi Open in Washington DC.
This article is copyrighted by International Business Times, the business news leader