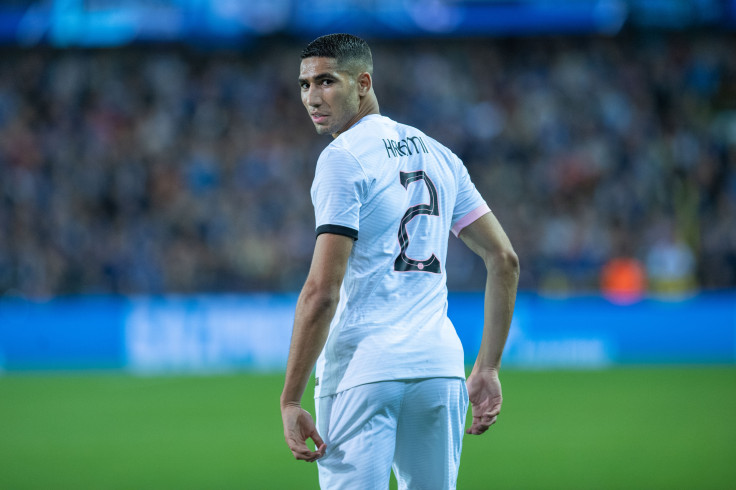 Paris Saint-Germain defender Achraf Hakimi is confident that nothing will come out of the rape allegations that have been lodged against him. The footballer is currently under investigation after a 23-year-old French woman went to the police to accuse him of sexual assault, but she initially refused to file a formal complaint.
Despite her reluctance, French authorities decided to pursue the investigation which has now led to formal charges. Despite the decision by authorities to proceed with the case, Hakimi is reported to be calm and is not afraid of the possible outcome.
The reason behind the Morocco international's confidence is his belief that the woman tricked him and he only fell into her "trap." According to Diario AS, Hakimi thinks she has no case against him and he has said as much to his lawyers and his friends. The identity of the accuser has not been revealed, but she is described as a French woman who met the famous footballer on social media back in January.
According to her statements to the police, she and Hakimi had been talking on social media for a little over a month before they agreed to meet on February 25. He paid for an Uber to pick her up and take her to his residence. Once there, she claims that he forced himself on her.
She then managed to stop the alleged attack by pushing him away with her foot. She then called a friend to pick her up from the footballer's home. Hakimi and his lawyers have not issued a statement to share his exact version of the events, but it is understood that he maintains his innocence and Paris Saint-Germain are standing by him while the investigation continues.
Hakimi's lawyer Fanny Colin has called the accusations "false" and he is fully cooperating with authorities. PSG are letting him continue his club duties as normal, and have said that they trust the legal process.
Despite the support that Hakimi is receiving from his legal team and his club, it appears as though he won't be able to count on the support of his wife. Hakimi has been married to Spanish actress Hiba Abouk since 2020, and they share two young children.
According to Marca, Abouk has started divorce procedures or has at least taken steps towards separation. Based on her social media posts, Abouk was on vacation with their children in Dubai when Hakimi decided to meet up with the woman, which explains why he was able to invite her to the home he shares with his family in Paris. Abouk was oddly miles away in the Middle East and was captioning her posts with the hashtags #familyfirst and #qualitytime even though the children's father was absent.
Soon after news about the allegations broke, Hakimi attended the The Best FIFA Awards on February 27, and his wife was noticeably not by his side.
Speculations are rife that the couple may have already been separated before the scandal even erupted, which was perhaps why Hakimi had been talking to another woman and inviting her over. However, even if things had been rocky, the rape allegations would certainly not help their relationship if there was ever a chance of reconciliation. They may have not been together anymore when the alleged incident took place, but the split could have been for other reasons.
Also, the couple seemed to be going strong just months ago when Abouk went to Qatar to support Hakimi during Morocco's run to 4th place at the FIFA World Cup. She shared numerous photos from the event and even praised the Morocco national team for their inspired run.
Abouk has been keeping a low profile since the news exploded while her husband is going about his business as usual with no indication off any attempt to stay out of the public eye. Neither has commented about the real status of their relationship, and it remains to be seen if they will emerge from the scandal together or if they will be moving in separate directions.